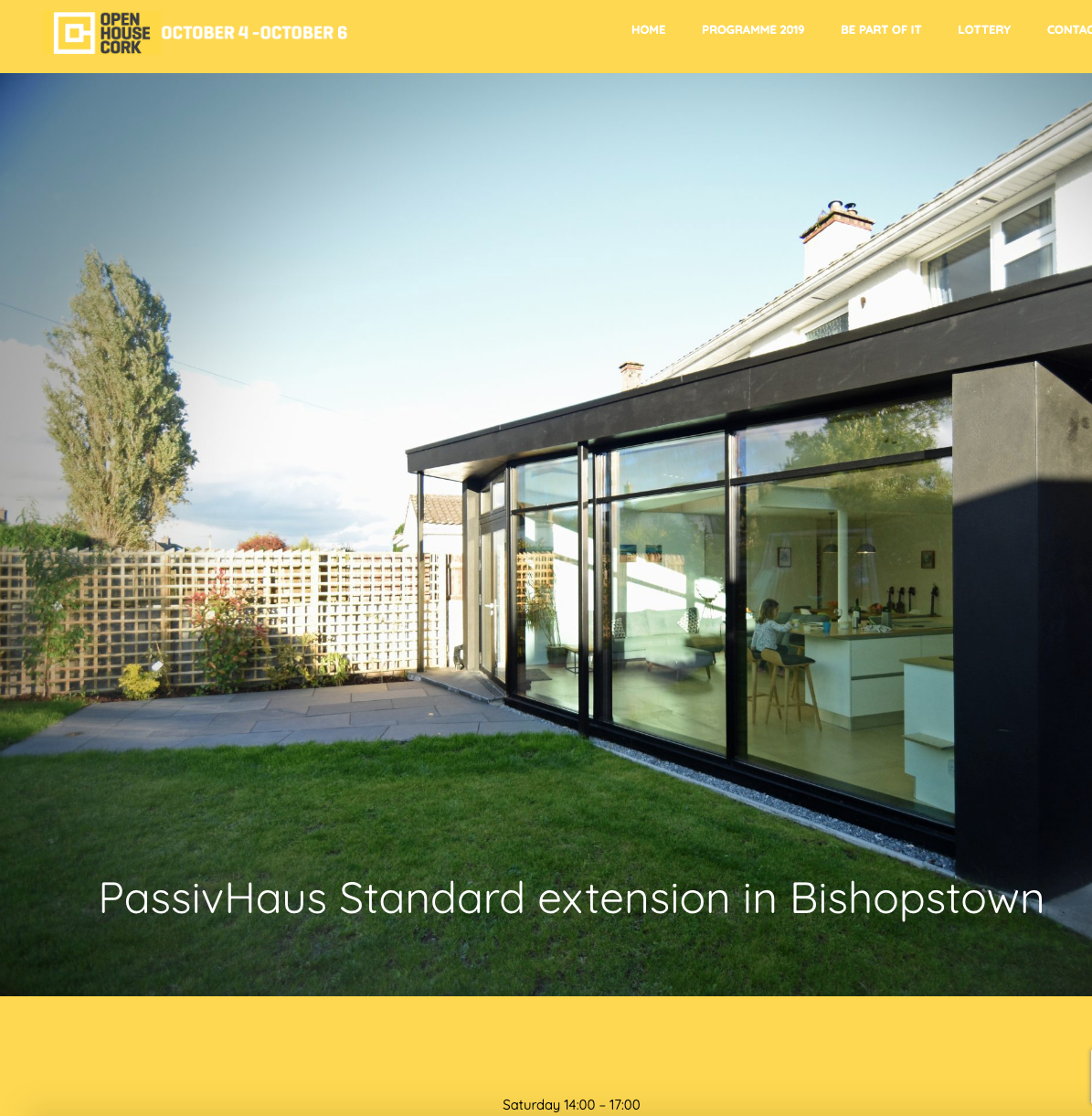 Bishopstown Extension open for viewing as part of Open House Cork 2019 programme
We are looking forward to opening our house extension in Bishopstown, as part of the programme of Open House Cork 2019. http://www.openhousecork.ie/portfolio/passivhaus-standard-extension-bishopstown The full Open House Cork programme is available here; 
http://www.openhousecork.ie/ As part of the lecture series, The PassivHaus Architecture Company will give a lecture on PassivHaus and our implementation of it, on Friday 4th October at 5.15 p.m. in Good Day Deli at Nano Nagle Place, Douglas St, Centre, Cork, T12 PXV1. All are very welcome.
We will discuss passive house as an approach to building in the context of Climate Breakdown, looking at examples to illustrate what residential and non-residential passive buildings are like and the experiences of clients who live and work in them.
After the talk we will have time for discussion, you can ask me questions on the topic in general or specific details and approaches and we will all no doubt, enjoy the evening and learn a lot!
Please share to get the word out for these events and all the wonderful Open House Cork 2019 activities, a great chance to learn about architecture in Cork City.
THANK YOU FOR READING OUR BLOG POST ON OPEN HOUSE 2019
I would love to hear your comments and if you have any questions post them in the comments below and I will get back to you. Thank you for reading my blog on this issue and do share it using the buttons opposite!
If you would like to speak with an architect please feel free to Contact Us
Also you can leave a comment or question below.
Ask The Expert!
You are invited to post your questions on this topic in the comment section at the end of the page and we will advise you as best we can….
The PassivHaus Architecture Company features in The Best Architects in Cork consumer page. We are delighted to be listed on this consumer page high-lighting the top 5 architecture practices in Cork. The practices have been assessed in terms of - Quality and Range of...