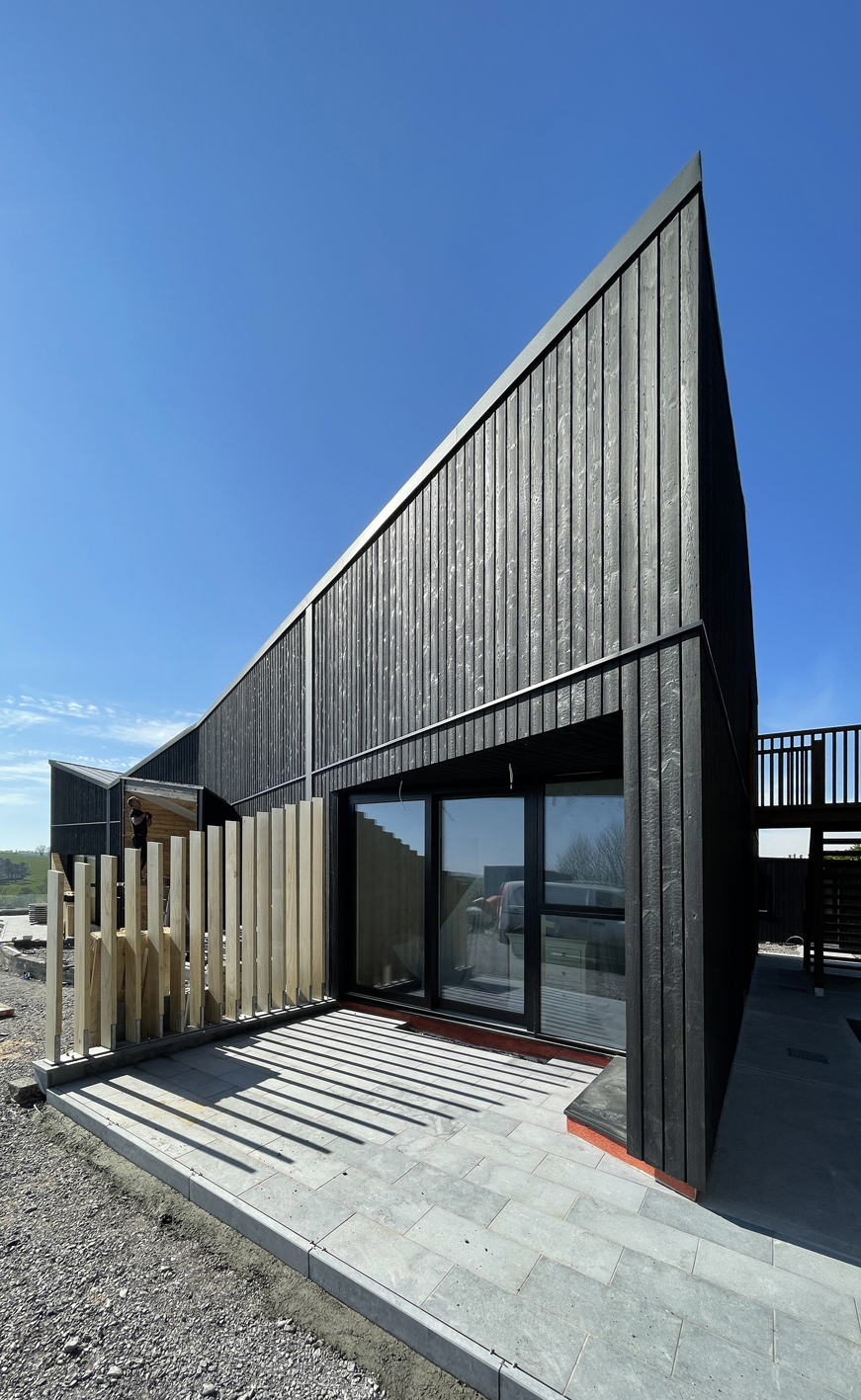 Clonakilty Passive House
Our Clonakilty passive house is almost complete. This will be our most successful example of truly low carbon construction yet. Not only will the energy consumption of this house be almost zero due to the exceptionally efficient design, form, and performance, with substantial on-site energy solar photovoltaic electricity production, but the materials from which this house is constructed are ground breaking.

Architectural features
The form of the house is dramatic, with skewed geometries, stepped section to fall with the site contours, amazing views over the valley through 8 metre wide glazing, indented covered seating area to the master bedroom, double height atrium hall way. From an energy point of view, this stealth-bomber-like tight form describes an ideal surface-to-volume ratio, know in the biz as 'form-factor', and because this is so efficient, our energy consumption is going to be less that half of a standard passivhaus.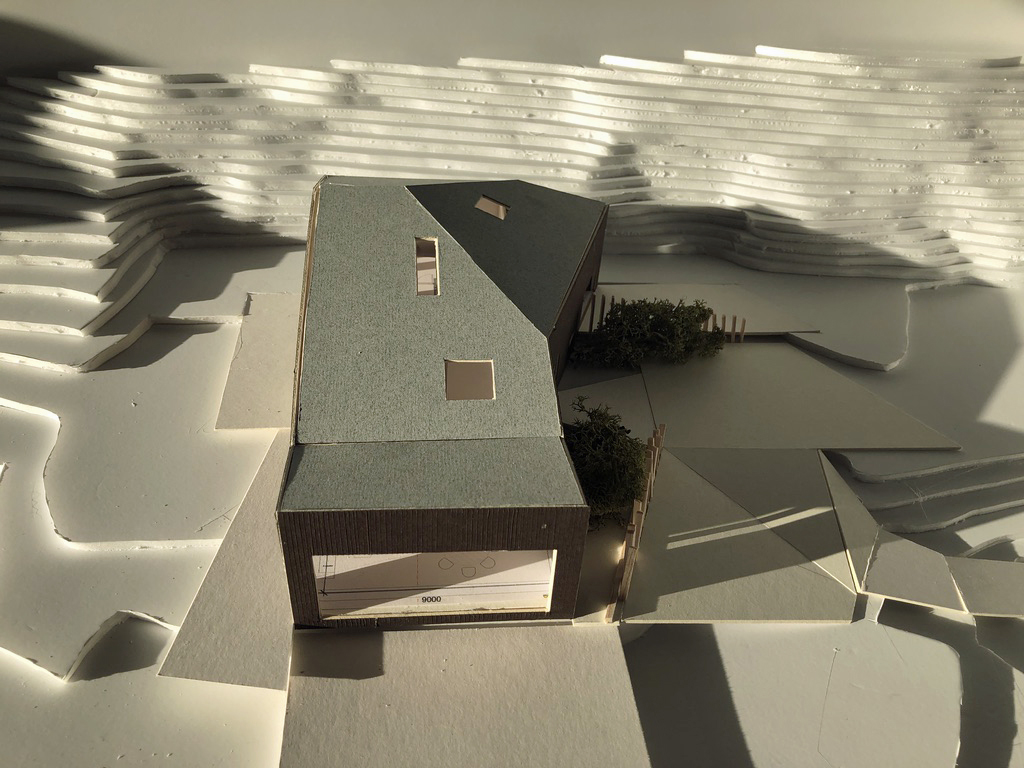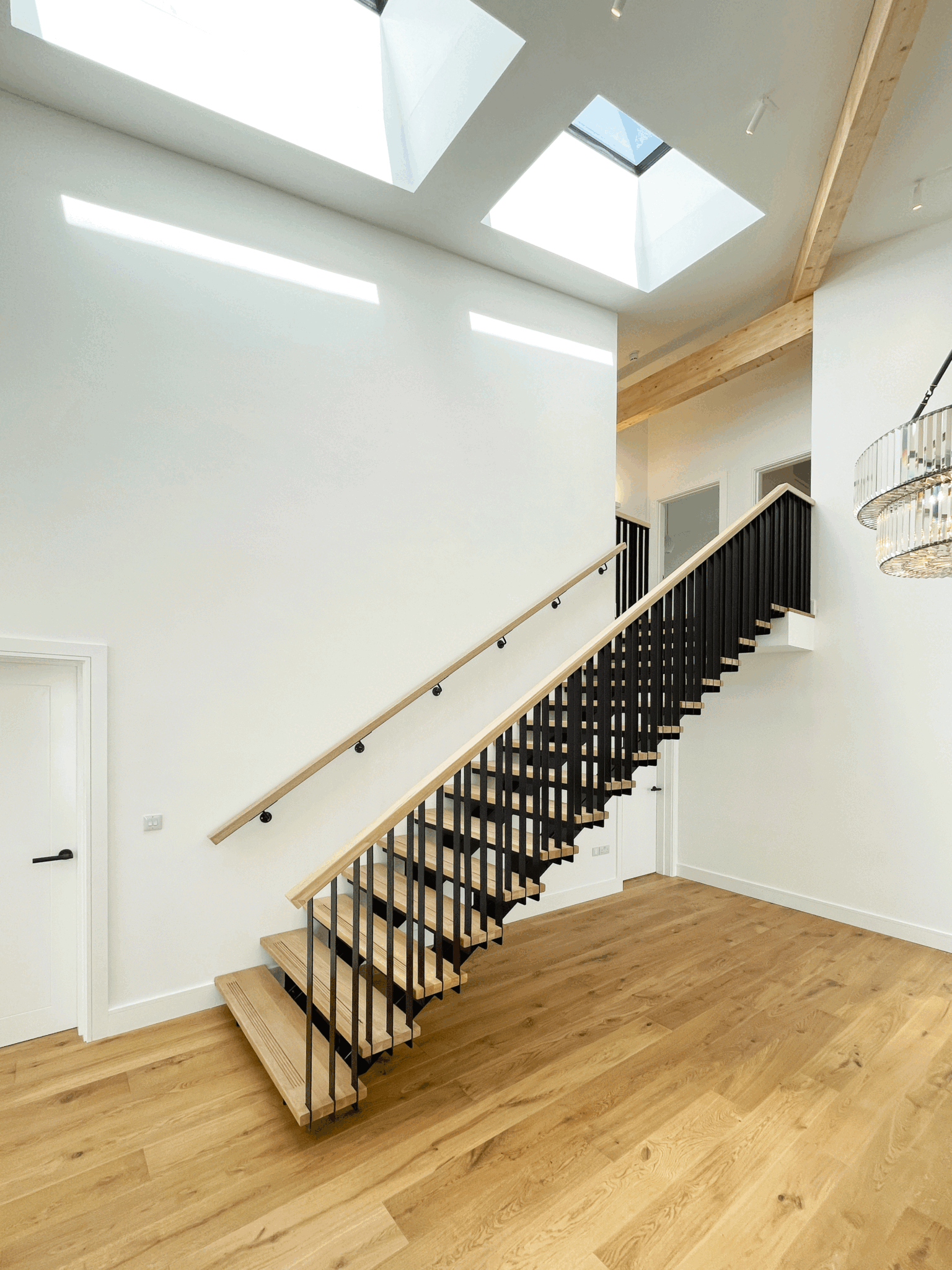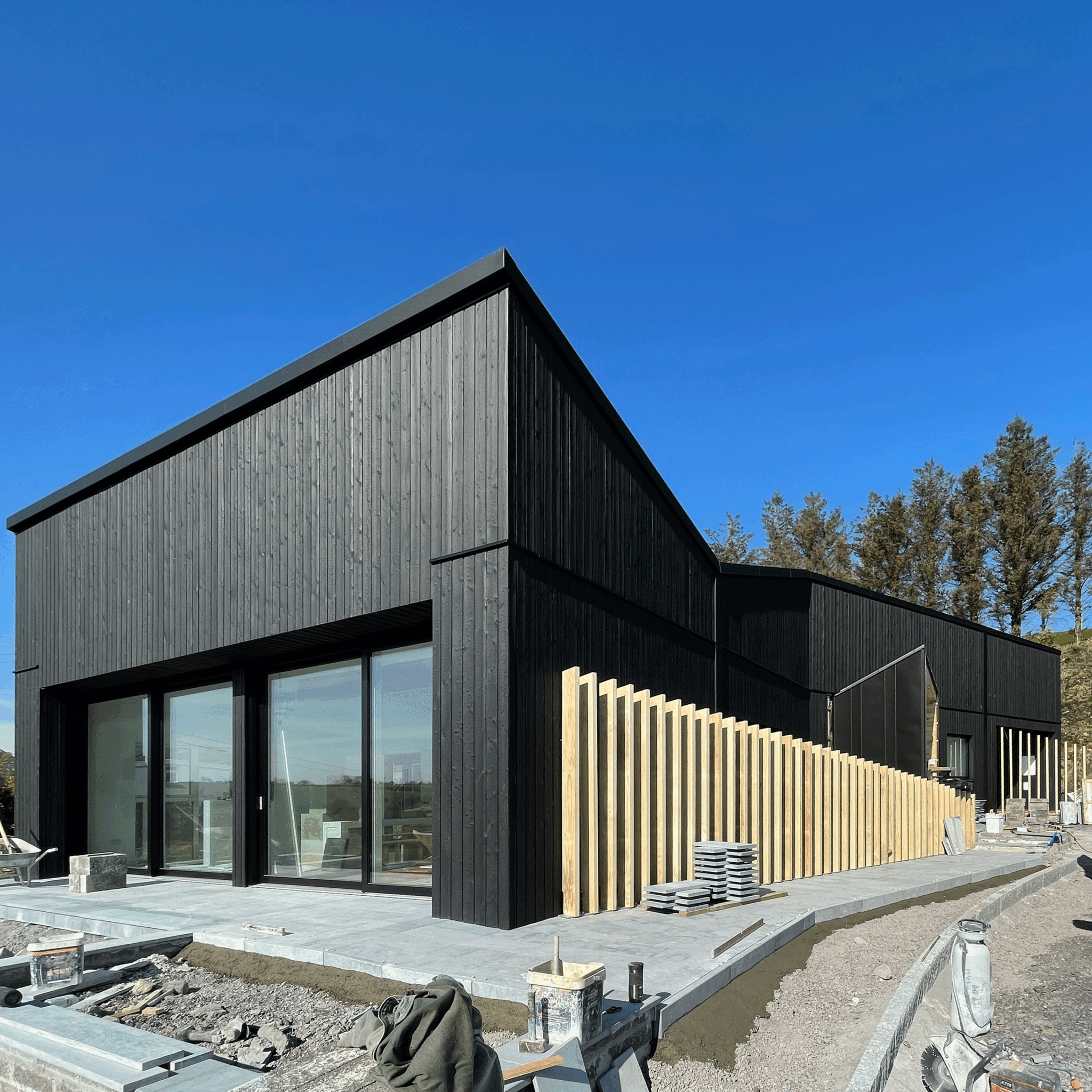 Environmental Features
If you know our work, it will not surprise you to hear that this will be a certified passive house, however this is our first project that is going well beyond that high standard.
Form Factor
Here's one for the energy-goons out there! We were shocked when we ran the design through the energy modelling software (PHPP) to find we had accidentally designed our most-efficient building ever! (Heating load  7 Watts per square metre, and Heating Demand of 7 kWh/m2a) about half the passivhaus standard. This has to be due to the super efficient surface area of the shape designed, and storey and a half of accommodation within the elegant roof form and tight plan-shape. 
Passive House Plus
We are installing a significant solar photovoltaic array, around 9 square metres, that means this house will generate enough renewable energy to qualify for the 'Passive House Plus' performance standard.
Embodied energy
We are constructing the building in timber frame, and cladding it in charred larch. This and other low-carbon materials will mean that the 'Up-Front' Carbon for the house will be as low as possible.
Replacement structure
The house is to replace the client's previous house which was destroyed by fire. We are able to reuse all the original site infrastructure, boundaries, planting etc.
Stay in touch to hear about the next two new passive house projects in the pipeline for later this year!
THANK YOU FOR READING OUR BLOG POST ON CLONAKILTY PASSIVE HOUSE.
I would love to hear your comments on the project and if you have any questions post them in the comments below and I will get back to you. Thank you for reading my blog on this issue and do share it using the buttons opposite!
If you would like to speak with an architect please feel free to Contact Us
Also you can leave a comment or question below.
Ask The Expert!
You are invited to post your questions on this topic in the comment section at the end of the page and we will advise you as best we can….
The PassivHaus Architecture Company features in The Best Architects in Cork consumer page. We are delighted to be listed on this consumer page high-lighting the top 5 architecture practices in Cork. The practices have been assessed in terms of - Quality and Range of...