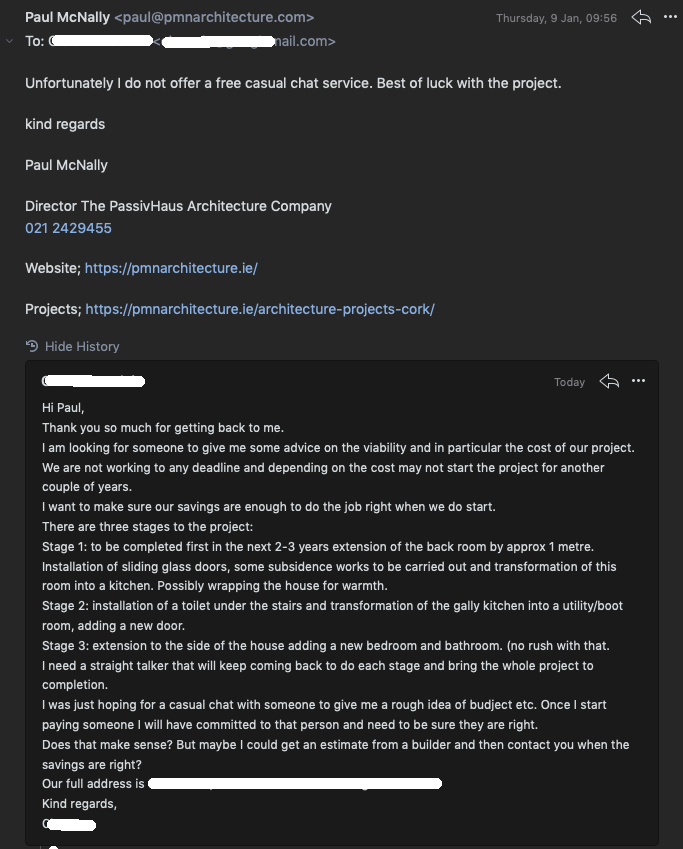 How NOT to Hire a good Architect!
I have written at length here on how to hire an architect, how my process works and why it is in a client's interest to follow the tried and tested method, in order to have a good project outcome. However, some people never listen, and once in a while I have to laugh at how they can expect you to work for free, in hope of getting a project. We get up to five calls a day asking for help with a project, if I visited each one for free, I would never actually get to do any work for a client or build anything!
Despite me sending this person my information pack, and links to the site explaining the process, they clearly did not read any of the information and just told me what they want, where they want it, and asked me for free advice! There is no such thing as 'Just' a 'casual chat' ("Your Honour, it was 'just a casual chat' I did not expect her to act on the advice" – see how that defence stands up in court!). A casual chat is something you have with a barman!
Working out your budget is a pain in the arse, it takes years of experience, is tedious, and is no good unless I consider it properly and work it out, and write it down for you. A builder will tell you 40% of the costs, they don't know how much an architect, engineer etc costs. And their advise is narrow in terms of being limited by their own lack of design skill and particular way of building, whatever that is!
Good Luck!
THANK YOU FOR READING OUR BLOG POST ON HOW NOT TO HIRE AN ARCHITECT!
I would love to hear your comments and if you have any questions post them in the comments below and I will get back to you. Thank you for reading my blog on this issue and do share it using the buttons opposite!
If you would like to speak with an architect please feel free to Contact Us
Also you can leave a comment or question below.
Ask The Expert!
You are invited to post your questions on this topic in the comment section at the end of the page and we will advise you as best we can….
The PassivHaus Architecture Company features in The Best Architects in Cork consumer page. We are delighted to be listed on this consumer page high-lighting the top 5 architecture practices in Cork. The practices have been assessed in terms of - Quality and Range of...