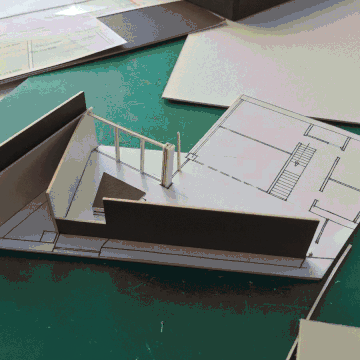 MODEL MAKING AS AN ARCHITECTURAL DESIGN TOOL
Why do architects make models? Because it is fun! From making Lego as a kid to building castles, dens, forts, treehouses, this was the kind of thing I have always enjoyed doing.
Now I get to do it for real with buildings – but making miniature models of my projects is still the best part of my job!
It is not a totally self-indulgent pursuit however, because architectural models are critical to the design process in many ways.
Through the process of making the model, the architect is forced to consider shapes, junctions, inter-relationships of elements in a three dimensional way. If the model is hard to make, the buildings will be harder to make. The buildability of the model will help you to make rational design decisions.

 The finished model is a great way to communicate the design to the client. Drawings tell a part of the story, but are hard to read if you are not used to interpreting them. Models convey the three dimensional concept directly.
The model show below a passive house we have just gotten planning permission for in Cork City. The model is made so that the roofs and upper floor can be removed, so the client can look inside and understand the internal layout. The surrounding site and ground levels are to scale, so that they can understand the relationship with surrounding buildings, and site boundaries, and the existing trees are represented with twisted wire to show how privacy will be maintained.
THANK YOU FOR READING OUR BLOG POST ON ARCHITECTURAL MODEL MAKING.
I would love to hear your comments on the cost plan and if you have any questions post them in the comments below and I will get back to you. Thank you for reading my blog on this issue and do share it using the buttons opposite!
If you would like to speak with an architect please feel free to Contact Us
Also you can leave a comment or question below.
Ask The Expert!
You are invited to post your questions on this topic in the comment section at the end of the page and we will advise you as best we can….
The PassivHaus Architecture Company features in The Best Architects in Cork consumer page. We are delighted to be listed on this consumer page high-lighting the top 5 architecture practices in Cork. The practices have been assessed in terms of - Quality and Range of...