Deputy Micheal Martin (FF) was the guest of honour to launch the Cork Architectural Association exhibition 2017 on 3rd November in Cork City Hall Atrium.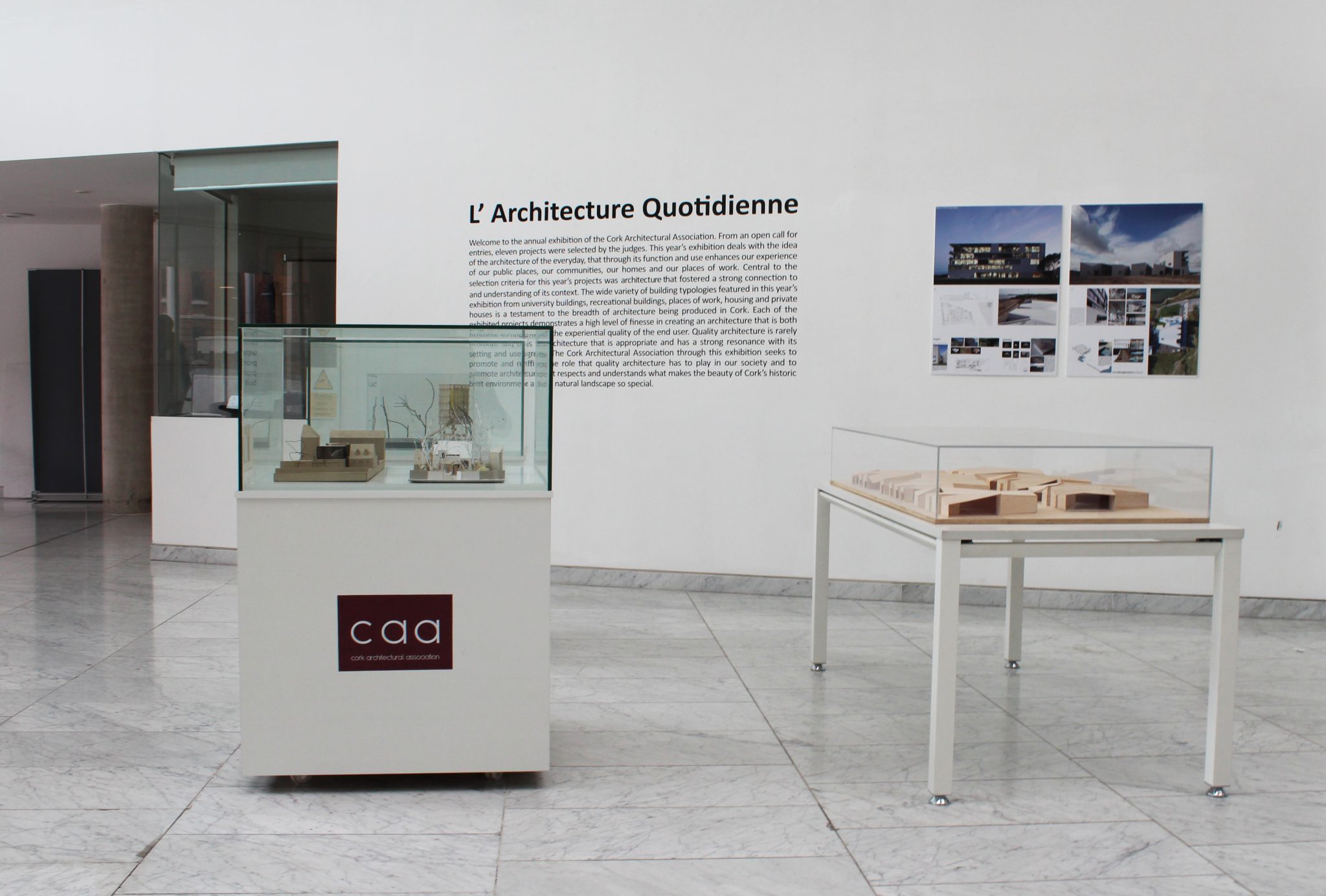 The sponsors for the event was Cork Builders Providers.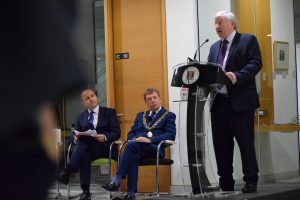 Dan Twomey, Director of CBP spoke on the evening, giving a very welcome illustration of how Cork Builders Providers are opening a centre of excellence at their Togher branch where best building practice materials will be displayed, insulation, airtightness materials etc. It is great that CBP making PassivHaus construction easier for specifiers and contractors.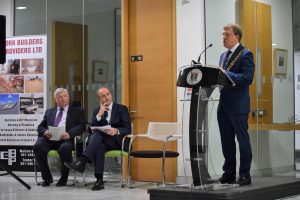 Lord Mayor of Cork City, Tony O'Sullivan also addressed the well attended event. Tony made the CAA welcome at City Hall, and spoke about how good architecture benefits everyone in the city.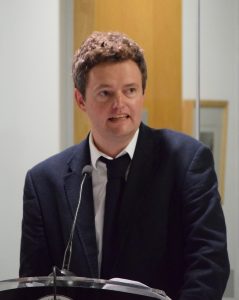 The CAA president Seán Ó Mhuiré introduced the speakers and spoke on the theme of the exhibition, L'Architecture Quotidienne, noting how the historic fabric of the city forms the backdrop to our everyday lives, and adds a layer of richness and quality that inspires and enriches us.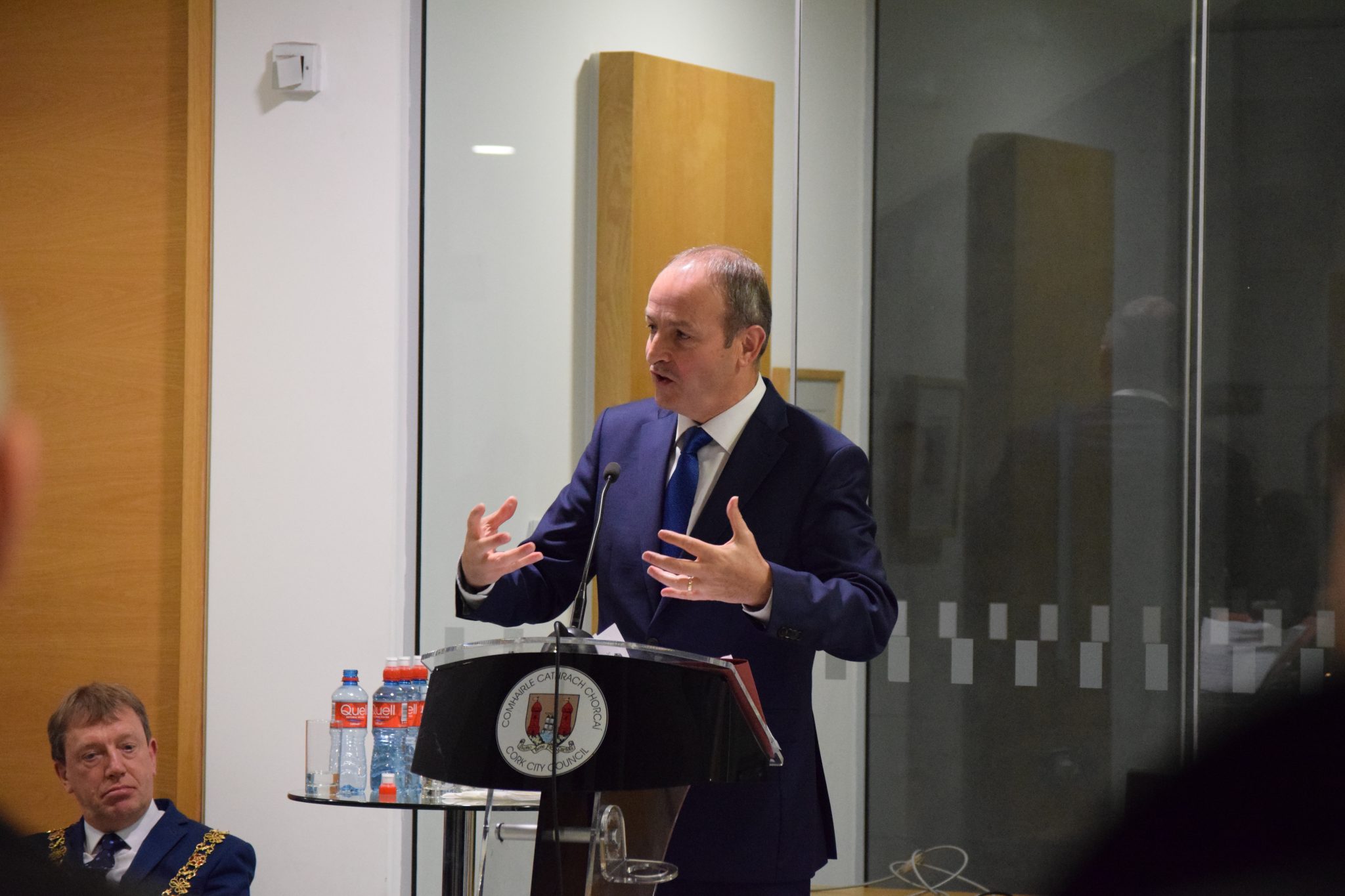 Mícheál Martin T.D. gave an enthusiastic speech referring to the vigour, talent and diversity of the exhibited projects, noting how much of the work shown was highly competent in addressing Climate Change, and how Cork was well served by architectural practices capable of producing an appropriate response to the issues ahead of us.
The PassivHaus Architecture Company was delighted for the 'Solar Scythe' project to be selected by the independent jury of Pat Ruane and Derek Tynan.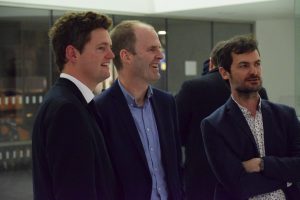 Seán Ó Mhuiré (Fuinneamh Workshop Architects) is President of the CAA (left), Dermot Harrington of Cook Architects is secretary (centre) and Paul McNally is treasurer.
The Examiner was our media partner and gave great support with publication of the projects and reporting on the event.
A booklet will be available for download shortly featuring the exhibited projects:
Folding House – A2 Architects
Brick Extension – Cook Architects
BurnY-BurnY – Fuinneamh Workshop Architects
Play Tower – Neil Kane Architects
Cora Finne – Kiosk Architects
Swimming Pool Changing Pavilion – Magee Creedon Architects
Beaufort Research Laboratory – McCullough Mulvin Architects
Blackrock House – O'Mahony Pike Architects
Solar Scythe – The PassivHaus Architecture Company
Cork City Passive House – Wain Morehead Architects
ASSERT – Wilson Architects
All photos by Brian McKeown.
The exhibition runs for 4 weeks and will end on Friday 24th November.