What are the trends in sustainable hotel architecture design? Hotels have an enormous space heating and cooling demands compared to other building types. I have noted in previous posts how Irish hotel bedrooms are actually uncomfortable because there is a culture of intentionally overheating the rooms, as this is supposed to imply luxury. It implies waste and bad design.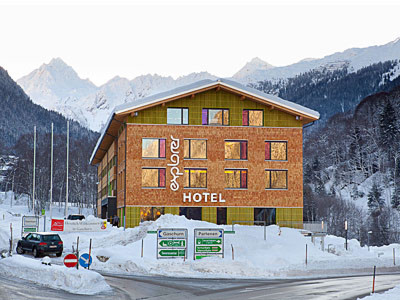 PassivHaus certified Explorer hotel Montafon by Herz and Lang architects in Austria.
I frequently have to open the window to cool the room before going to bed, or turn on air conditioning during the heating season because the room is 25 degrees and everyone needs 21 degrees at most for a good rest.
What hotel owners need to realise is that they can achieve perfect thermal comfort and save vast amounts of cash at the same time by correctly designing their buildings!
As an example, a typical hotel bedroom in Ireland, heated to the typical 25 degree Celsius mark demanded by hoteliers, would consume, per year, 127 kWh per square metre per annum in heating.
With gas say, 5.43 cents per kWh for a 15 square metre room, that is €103.44 per hotel room per annum of gas heating units consumed, excluding standing charges and VAT.
It would consume 51.4 kWh per square metre per annum in cooling units.
This equates to 771 kWh at say, €0.1672 per kWh is €129, excluding standing charges and VAT.
For a hotel of say, 150 rooms, that is just under €35,000 per annum to heat and cool hotel rooms only. That does not include corridors, pools, bars, reception, back of house etc. which would double that cost typically.
If the hotel were built to passive house standard, the space heat would be a maximum of 15 kWh per square metre per annum, 90% saving! The cooling load would be a similar factor of improvement.
The 150 bedroom hotel built to passive standard would save €63,000 per annum, plus vat before standing charges. That figure escalates well-ahead of inflation. Energy costs have a 5% per annum long term average inflation rate.
But not only that, the rooms would actually be comfortable. Constantly at 21 degrees in the bedroom giving a perfect night's sleep. 23 degrees in the bathroom. There would be lower maintenance costs, because the air-conditioning would hardly ever be running so would not get worn-out. That means less down-time for room maintenance, less complaints to reception.
It would mean that the hotel could boast real green credentials, like Explorer Hotels in Austria and Germany, where all their hotels are to this standard. When are we going to see this attitude demanded by Irish hotel customers?
Ask The Expert!
You are invited to post your questions on this topic in the comment section at the end of the page and we will advise you as best we can….
The PassivHaus Architecture Company features in The Best Architects in Cork consumer page. We are delighted to be listed on this consumer page high-lighting the top 5 architecture practices in Cork. The practices have been assessed in terms of - Quality and Range of...